It was a 'major' day for us here at Crown SDS earlier this month promoting driving careers at the BFRS Employability Fair. We had the pleasure of meeting ex-services personnel throughout the day – providing guidance on transitioning from the military into a civilian career. Taking place at Leicester Racecourse, the employability was the first in-person event that we had attended since early 2019.
The event aims to help ex-service personnel who are looking to change career, to network with a total of 28 different companies across the UK, both virtually and in person dependent on the attendees' preference. Attendees can expect to receive advice from company representatives on job placements, a change of career in the final two years of service, CV support and current job opportunities.
The British Forces Resettlement Services is a community interest company (CIC) that has been supporting those within the ex-services community for over ten years. Their mission is to ensure that those who have served in the armed forces are not disadvantaged, because of their dedicated service, by providing career support. The organisation assembled companies across the UK to take part in career fairs aiming to promote jobs for ex-service personnel.
Soldiering On: Addressing the Mental Health Stigmas around Ex-Forces Employability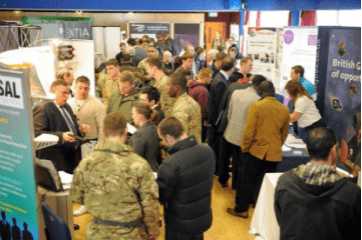 We were proud to support the BFRS and spoke out on the challenges that ex-forces people encounter after life in the armed forces such as perceived mental health problems that make employers less reluctant to hire ex-military. With our managing director, Tim Seagers being ex-services, having first-hand experience with the challenges of the transition – Crown SDS wanted to provide support to those who were also struggling to find a new civilian role.
Our leading resourcing advisors Nina Pagano and Mark Reynolds were on hand at the event with heaps of goodies, treats and support for service leavers. We'd like to say big thank you to Nina and Mark for holding down the fort! We're keen to continue matching ex-service people with driving jobs, that can benefit from their unique skills set . If you may be one of them – we're eager to get you on board and in the driving seat! Be sure to fill out your application to join the fleet!
Resourcing Manager Mitchell Seagers said, "We look forward to offering support and guidance to the armed forces community during and after the event, for those seeking opportunities in a new and exciting sector. We see many excellent transferable skills, that in many cases, position ex-services ahead of the competition looking for driving careers"
Director Steve Rushton said, "We're proud to offer a spectrum of opportunities at Crown SDS, where each day is different to the last. You can choose to take the wheel and drive your own career forwards, by choosing how many jobs you wish to accept across the day."