Rising consumer demand for 'fast and free' delivery, signals the end of speedy fulfilment and distribution as simply a 'nice to have' element of the delivery experience.
The rapid growth of e-commerce brings with it a growing demand for faster and more efficient delivery options, as an essential element and expectation of every online purchase. In the quest to deliver a superior service to customers, whilst driving delivery costs down, the key is to create more efficiency within the last mile delivery process.
So, what is last mile delivery and how can Crown SDS support your business?
What is final mile delivery?
Final mile delivery is essentially the last leg of the delivery process and is also generally regarded as the most expensive and complex part – accounting for 53% of the total shipping cost. 
Consider the movement of a product from the point of manufacture, until the moment it reaches the buyer. From factory to distribution centre, to a regional distribution hub; most products will be transported to numerous locations before they embark on the "final mile" or the last mile of the delivery journey where they will reach the customer. 
With the rise in consumer demands for free and faster shipping, businesses are looking to the final mile to implement technologies and leaner processes to drive efficiency.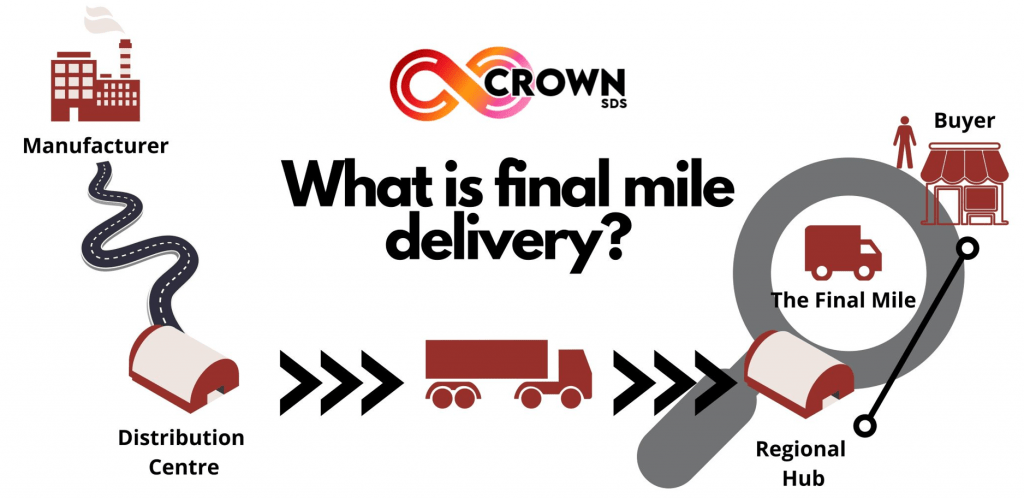 Why is last mile delivery so expensive?
Complexity
The complexities of last mile delivery arise from an increased number of delivery drops, more complex routing and more challenging delivery locations. Take multi-drop deliveries in rural areas as an example, drop points can be located quite some distance apart, meaning it can take longer to complete scheduled drops. Whilst drop points within a city may be located more closely together, couriers are faced with the added challenges of city driving such as congestion, ULEZ (ultra-low emission zones), lack of roadside parking, high-rise drop points and fuel inefficiency.
Visibility
Gone is the era where a customer would simply accept that a consignment is "out for delivery" for an extended period of time. Accuracy of tracking a delivery is vital, particularly since the rise of digital platform giants such as Uber and Deliveroo. But accurate location-based technology is costly, and not something which all businesses have access to.  
Customer Service
40% of an e-commerce company's feedback stems from the circumstances surrounding product delivery. Whilst the final handover of a delivery is merely a small part of a products overall journey, it has the biggest part to play in shaping a customer's perception. Any dissatisfaction surrounding the whole delivery journey, is most likely to be highlighted during the final mile process.
Enhancing last mile logistics with technology
The incorporation of technology into last mile logistics can significantly improve efficiencies and overcome the challenges of operations in the final mile through:
Optimised Route Planning
Smarter Tracking
Integration of Technology
Interested in streamlining your final mile offering to increase efficiency and deliver more value for your customers?
Get in touch with our experienced team today to discuss a bespoke same-day courier solution to meet your last mile requirements.