With growing numbers of vehicles hitting Britain's roads each day, we talk the top hazards facing courier drivers and how they can remain safe when out on the road, this National Road Safety Week.
At the end of June 2021, there were 39.2 million licensed vehicles in Great Britain. That's a 2.2 per cent increase compared to the end of June 2020.
And with British roads already among the most crowded in Europe, with increasing numbers of vehicles heading out on the road year on year, awareness around driving safely is becoming of increasing importance to protect road users – that includes those using the roads in vehicles, as pedestrians and even road maintenance workers.
National Road Safety Week, the UK's biggest annual road safety campaign, is this November calling for increased understanding around the dangers for road users. Running from 15-21st of the month, the campaign will be spreading awareness around how UK roads can be made safer for its users.
Working As A Courier Can Increase Your Risk
Whilst there are over 35 million people holding a full driving licence in the UK, there are key groups who spend more time on the roads, putting them at an increased risk of being involved in an accident – that includes couriers and delivery drivers who, statistically, make more insurance claims than any other driver group.
The heightened risk of facing a crash whilst working as a courier, can be attributed to several factors linked to the nature of the role: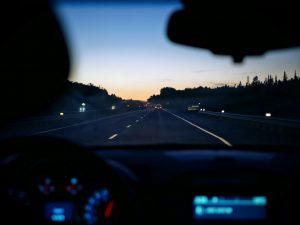 From food delivery drivers working in their local area, to the same-day courier covering long-distance deliveries, when working as a driver, you're naturally more exposed to the risks of the road, due to spending more time behind the wheel than the average driver.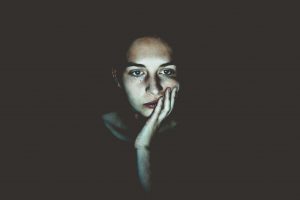 Careful driving is much harder when a driver is fatigued. When working as a self-employed courier driver, you might work longer hours to improve your earning potential – but are longer driving hours making you tired and putting you at risk?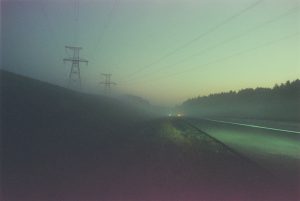 Extreme weather conditions can have a huge impact on driver safety. Driving safely in snow and on slippery roads can be challenging, even for the most skilled of drivers, affecting braking distance and visibility which can lead to weather-related car accidents.
And whilst many drivers can stay safely indoors when adverse weather conditions arise, couriers and delivery drivers still head out in heavy rain, fog, ice, sleet and snow, in order to keep the supply chain moving.
Driving Safely Tips from Crown SDS
In order to combat the increased risk delivery drivers face when heading out on the road, there are a number of steps you can take to increase your safety on the road.
Here are our top safe driving tips:
1.Check Your Vehicle
A quick daily walkaround could make all the difference when it comes to road safety, particularly during the winter months when the weather conditions can make driving safely more difficult.
Take a few moments each day to walk around your vehicle and look for any obvious signs of fluid or oil leakage, check the tread depth of your tyres and ensure there are no deep cuts in the sidewall. Look around the bodywork and windscreen for any signs of damage and check your lights, brakes and windscreen wipers to make sure all are operating correctly before your journey starts.
2.Think Seasonally
Driving conditions change with the seasons, so its important to be well prepared to ensure you are driving safely across the year.
Safe winter driving can be particularly challenging, as drivers are faced with low temperatures and varying weather conditions including snow, ice, heavy rainfall and wind. Ensure your tyres are well-maintained or upgrade to winter tyres for best performance on icy or wet roads.
It's a good idea to prepare a basic winter driving kit in case of an emergency breakdown during the winter months. The RAC suggests this should include an ice scraper and de icer, warm clothes and blankets, a high-visibility jacket, first-aid kit, jump leads, reflective warning signs, food and drink and an in-car phone charger.
It's equally important during the summer months, to continue with daily safety checks of your vehicle. Rising temperatures can put your tyres at an increased risk of blowout, so check for punctures and any obvious signs of damage. Before you head out in your vehicle, ensure your windscreen is clean and your have plenty of washer fluid, as dazzle and glare from the sun can obstruct your view.
3.Plan Ahead
Whether you are delivering locally or further afield, in order to practice careful driving you should plan your journey before you set off for the job.
Planning as much of your journey as possible and knowing your route will ensure you are better prepared and less distracted throughout your journey. Having less reliance on route navigation enables you to focus more on the road ahead.
Another perk of planning before you set off, is that you can identify any upcoming traffic issues and avoid problematic routes. You'll be able to give a more accurate ETA to the customer and it will help to reduce the need to speed to make up the time lost.
Our top journey-planning tip is to ensure you schedule in breaks, recommended at every two hours. 10-20% of crashes are estimated to be caused by fatigue, giving yourself time to rest improves your levels of concentration and quicks your reaction to hazards, reducing your risk of being involved in a fatigue related crash.
Working with Crown SDS
Whether you are already working as a courier driver or are interested in becoming a courier, we hope these top tips will help you to drive safely. At Crown SDS, safety is among our highest concern. When working with Crown SDS, we encourage you to:
Keep us in the loop – we have a dedicated control team to maintain driver and customer communications. Advising us of any delays or issue en route, will enable us to keep the customer updated with any information related to their delivery.
Plan Your Workload – As a self-employed driver, you are in control of your own schedule. Manage your workload effectively to limit stress and fatigue. Notify us when you are available for work and be sure to incorporate rest breaks into your day.
Care For Your Vehicle – When you onboard with Crown SDS, we'll check the age and condition of your van to make sure it is in sufficient condition to carry out the work required.
Have a question or want to sign-up as a driver? Head to our driver page for more information or to sign-up.