From the days of juggling a new family alongside a new business, to turning over £32 million in sales during 2021 – Managing Director, Tim Seagers gives us an insight to how things have changed here at Crown SDS and how he sees the future amid an evolving logistics sector.
It's a business that celebrated its 30th anniversary only 18 months ago, so it's fair to say that Crown SDS (formerly known as Crown Couriers) has both seen and undergone significant change since its formation in 1990.
"It's incredible to think how differently things were back in the beginning", Seagers starts.
"Before the internet came about, I'd plan routes and mileage using nothing more than a map on the wall and a grid".
"I was working all hours of the day and night, to provide a 24-hour courier service – pretty tough with a new family – but I'd have to fulfil all aspects of the business from the driving, to control and meeting with customers".
"I'd divert office calls to this huge mobile phone that I'd take out on the road with me, so I could stop and answer calls while making deliveries".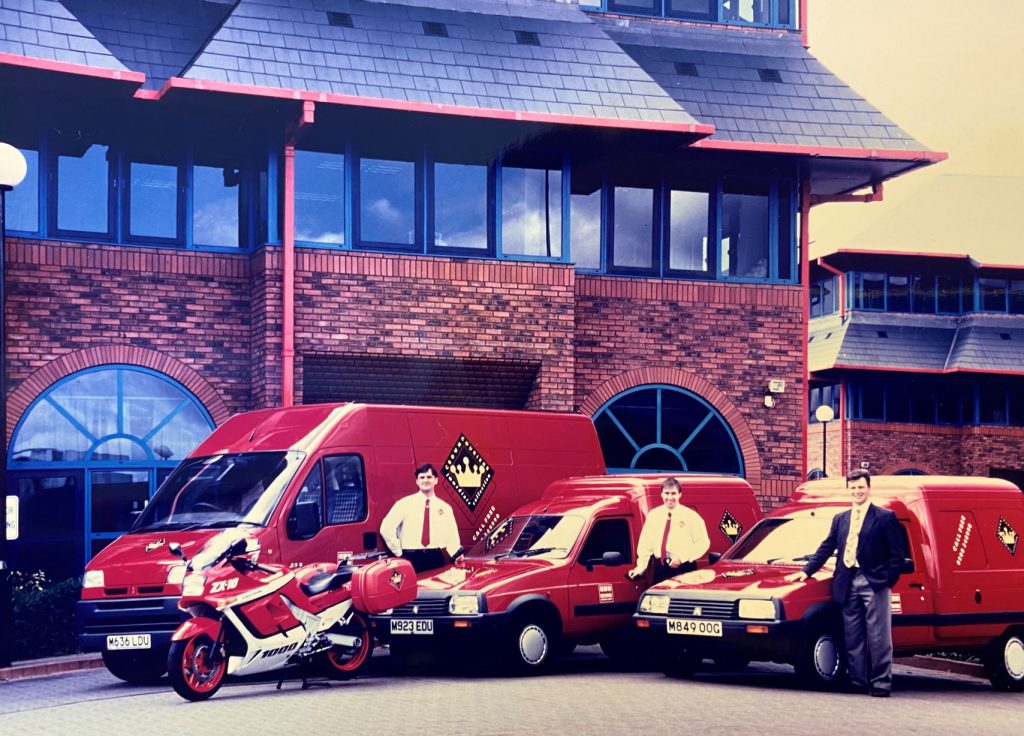 As the business started to grow, Tim was able to take on a small team and a modest premises in Aston, Birmingham. From there, the business grew from unit to unit to accommodate its expanding workforce, before locating to its current control centre in Tamworth.
"What excites me most about what we do, is how rewarding it is when we do it well"
"It's a sector that is all about service. And sameday courier services are becoming increasingly tech-driven to be able to adapt and improve on efficiencies, visibility and flow of information".
"Vans can't improve upon speed, so we're continually improving in other ways in order to meet growing expectations".
Seagers also addresses the environmental concerns clouding the logistics sector at the moment, with the UK committed to cutting carbon emissions by 78% by 2035.
"Whilst the courier industry is determined make operations greener, the technology of zero-emission vehicles isn't yet able to support courier work effectively – especially when it comes to larger vehicles".
Electric vehicles may be the future – but they're not ready to support imminent change in logistics.

Tim Seagers
"However, there are many alternative ways in which we are working to significantly improve the efficiency of every mile, through optimized routing, consolidation and reducing vacant capacity".
As a business, Crown SDS are committed to investing in technologies that offer more for customers – "it's about delivering bespoke solutions that meet requirements, rather than a one-size-fits-all service. Remaining agile is the key to continually adapting as customer expectations evolve".