What is 3PL?
Scaling up your e-commerce business can become problematic when it comes to online order fulfilment. As your business grows, you may find that fulfilling customer orders in-house is no longer a feasible option. Managing an e-commerce business, your expertise probably falls within many areas that sit outside of logistics. Sourcing a third-party logistics provider could be a key piece of the puzzle – enabling you to continue to deliver inventory to your customers with a seamlessly integrated logistics solution.
What is a third-party logistics provider?
Third-party logistics (3PL) enables a business to outsource its fulfilment and logistics to a specialist third-party provider, including everything from picking and packing, warehousing, inventory management, transportation and order fulfilment.
The use of a 3PL provider supports a simple and seamless service, that ensures items are automatically shipped to your customer when they purchase online, via a neatly integrated IT system. Taking away the requirement for in-house distribution, your 3PL provider will take care of your warehousing, inventory management and distribution.
---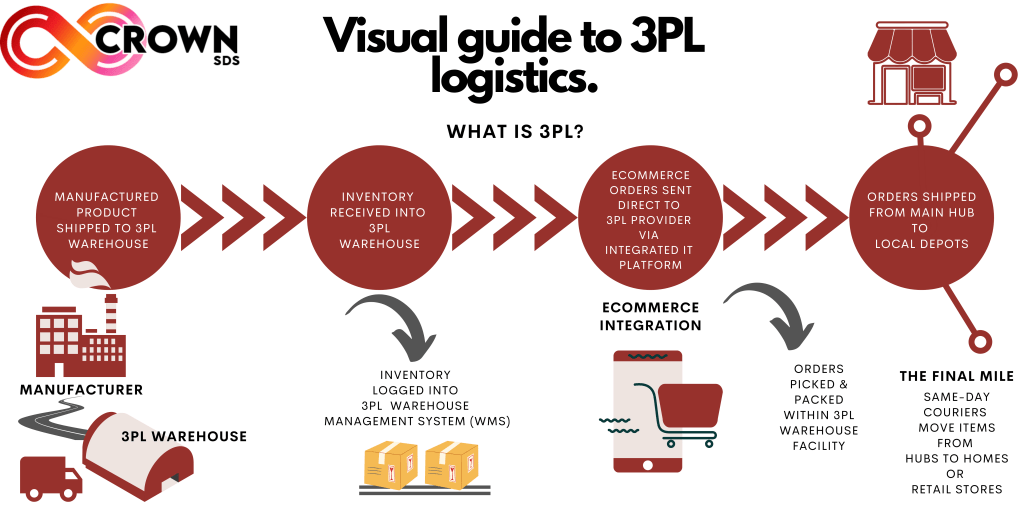 ---
Could your existing infrastructure handle a surge in demand?
You might be right in thinking your business infrastructure is already sufficiently equipped to deal with current levels of demand, but with growth in mind, it's sensible to consider outsourcing logistics to a 3PL provider before your business is overwhelmed by orders. Failing to fulfil customer orders, due to supply chain problems, can lead to lost sales and long-term reputation damage. In fact, one study found that if an item is not delivered within two days of the date promised, '69% of consumers are much less or less likely to shop with a retailer in the future'.
The last quarter of the year is the busiest and most profitable period for retailers, as we see shoppers make Halloween, Black Friday and Christmas purchases, with another peak around Easter. But if your business is unprepared for a surge in demand, it could lead to longer lead times or even a failure to fulfil orders.
Entrusting your logistics to a reliable 3PL provider, could be the answer to meeting fluctuating demand throughout the year and staying ahead of the curve with a streamlined order fulfilment and distribution operation.
Benefits of using a 3PL provider – Outsourcing Logistics
React to market fluctuations
Scale up and down your operation as and when needed, enabling your business to meet fluctuations in demand, without significant capital commitment towards own fleet and warehousing.
Enhanced customer experience
Plugging into an integrated logistics service will provide your customers with faster delivery, nationwide coverage, real-time tracking and live communications; among many other benefits that come from having access to an outsourced 3PL distribution network.
Let the challenges of warehousing and distribution fall to an expert in the field of logistics, allowing you to focus on the areas that can maximize the potential of your business.
Outsourcing elements of your supply chain, you'll benefit from not having to invest in and maintain a warehousing facility, fleet of vehicles and the staff that would be required to operate them.
Choosing a 3PL provider
Type of provider:
Choosing a third-party logistics provider is entirely down to the individual requirements of your business. For a fully end-to-end logistics solution, you'll be looking for a full-service provider that can manage your inventory from start to finish, through its nationwide fulfilment centers. There are also transportation-based 3PLs that can move your goods between different locations – including from a factory or supplier, to warehouse and even onward to retail stores or direct to customer homes.
Crown SDS offers a wide range of transportation and warehousing services, seamlessly supporting international 3PL providers with logistics solutions. And in conjunction with major International 3PL providers, Crown SDS provides bespoke solutions for many businesses.
We support a nationwide homeware retailer with a bespoke warehousing, consolidation and delivery service:
Previously utilising heavy haulage vehicles to operate collections from a network of UK vendors, Crown were appointed to deliver a greener and more cost-effective solution. Using its nationwide fleet of vehicles, Crown were able to optimise collections by using vans, to replace the work previously undertaken by larger vehicles that had been running well below capacity.
Upon arrival into Crown's central warehousing facility, inventory received is logged into Crown's Warehouse Management System (WMS) and consolidated into larger volumes by palletising goods. These larger consignments are prepared and booked in for shipping to retailers using heavy haulage vehicles, all managed in-house by a dedicated team.
Other considerations when choosing a 3PL Provider:
Tech Integration – can your 3PL integrate it's operation with your own? Whilst you'll be instructing a 3PL provider to manage your operation, you'll want to ensure you have seamless

logistics technology

integration to retain full visibility of your inventory.
Room for Growth – Can your 3PL sustain order fulfilment as your business grows? Be sure to choose a provider that can support the longer-term goals of your business.
Location – Does the location of your 3PL provider meet the needs of your business? Consider whether their areas of coverage and size of facility can meet your distribution needs.
Get in touch
Whether you are an ecommerce business looking for support with your order fulfilment, or a 3PL provider needing support with intricate issues within the distribution network – at Crown SDS, we can support.
Our knowledgeable team will work with your business to create a bespoke logistics solution that meets your exact requirements. Your customers are as important to us as they are to you, that's why we'll operate as an extension of your business, for a totally seamless service.
Speak to an experienced advisor today, email info@crownsds.com or call 0330 333 4400.