Boutique Baby Clothing Retailer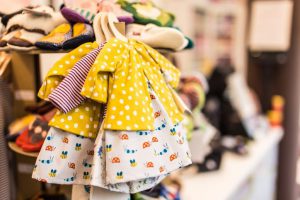 Our retail delivery service supported the customer, Jojo Maman Bebe, a children's online and bricks-and-mortar retailer. 
The retailer was one of the first to sell babies' wetsuits, 100% waterproof yet breathable outerwear, and wellington boots with cotton linings that could be worn all day. 
They trade online and through 100 wholesale accounts in Europe. 
As the business grew, so did the need for a reliable retail delivery system – that's where Crown SDS were able to support.
The Challenge
In the run up to Easter, Black Friday and Christmas, retailers see a huge influx of orders and need to increase their delivery requirements in response to meet demand – whether that's to increase in-store stock or meet online order requirements.
The customer needed a retail delivery service that was able to offer regular, scheduled delivery support, but also adapt quickly, to meet fluctuating demand across the year.
The Solution
Crown SDS supported the increase in demand during peak season with its retail courier service, alongside Hermes, one of the UK's largest parcel delivery companies.
Our drivers undertook special requirements for this project, delivering direct to stores, usually located within shopping centres. Distribution companies usually just operate a park and drop system. whilst this is more time consuming for our drivers, we are 100% focused on delivery being completed, in the right hands and with a satisfied customer.
This not only demonstrates our ability to support businesses on an ad hoc basis, but also demonstrates our reliability at such short notice to provide cover.
Thank you to the customer Jojo Maman Bebe for their feedback on our retail delivery service:
'Huge thank you for sorting at such short notice…there have been no issues so thank you'.