Becoming a self-employed driver with Crown SDS can be extremely rewarding. As well as excellent mileage rates, quick and easy access to jobs, we also have over 9,000 courier jobs each week which continues to grow.
If you're a self-employed courier with access to your own van and looking for courier driver opportunities, you can apply quickly and easily online with Crown SDS. We've been in operation for over 30 years and as we continue to grow, we are able to offer an increased number of courier jobs across the UK for local and nationwide drivers. Becoming a courier with Crown SDS can provide you with a flexible career, driver training opportunities and fantastic mileage rates.
According to a study carried out by Quadrotech, the most in-demand job of 2020 was that of courier roles, which topped the list with over 188,000 vacancies a month in the UK alone. This trend has continued throughout 2021, with courier roles now identified as 'essential'. This means if you are tempted by the idea of a flexible and rewarding career, now may be the best time for you to make a start. After all, its an extremely gratifying career.
Wondering how to become a self-employed courier driver where you control your control? We welcome applications from drivers who encompass a strong work ethic and excellent communication skills.
Becoming a self-employed courier couldn't be easier!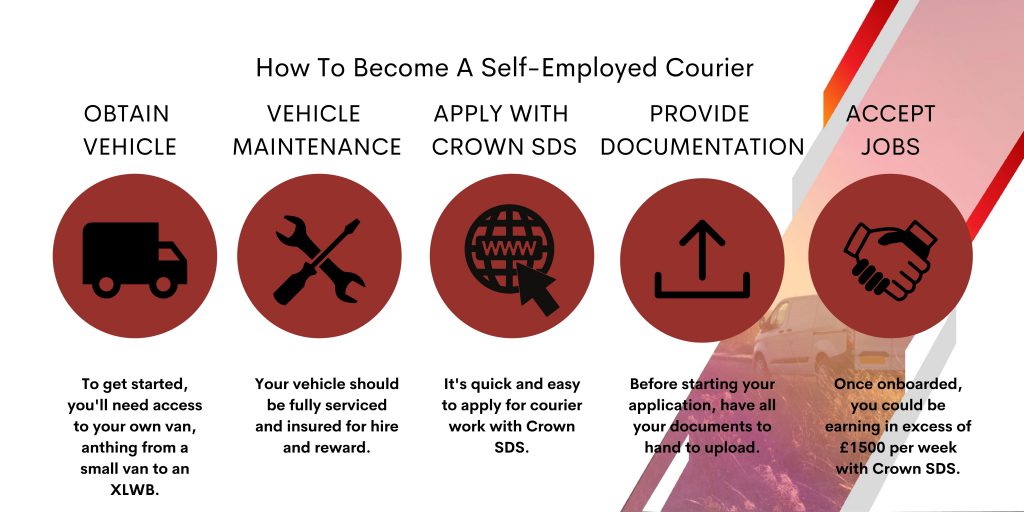 How to become a self-employed courier
Here are some of our top tips to help you get where you'd like to be:
1. Obtain a Vehicle
As a Crown SDS driver, there will be a variety of different work available depending upon which van size you have – so whether you have a small or large capacity van, we have work available to you. If you were hoping to use a car – whilst we occasionally have work that can be carried out in a car, the majority of our work will require you to have a van. Having a van will enable you to take on more deliveries and therefore provide you with better income opportunities.
When you apply to become a courier with Crown SDS, we will ask to see images of your vehicle, including the front, back, right and left side, as well as an image of the current mileage.
If you're considering applying to become a courier but don't yet have a vehicle, read our poll of the best vehicles for self-employed courier work. This will give you some handy hints and tips to look for when choosing a vehicle, as recommended by drivers already working in the industry.
2. Vehicle Maintenance & Insurance
However, having your own van does mean that it will need to be fully serviced and insured, just some of the additional costs that you will need to consider. Being a self-employed courier does require you to think carefully about the upfront and ongoing costs involved.
While we provide Goods in Transit Insurance and Public Liability Insurance, you will need to arrange Hire and Reward insurance to cover your vehicle.
3. Documentation
In order for your application to be processed smoothly and without issues or delays, we do recommend having all documentation ready in advance when applying for a courier role with Crown SDS.
Due to the professional nature of the work we carry out, we ensure every Crown SDS driver is security cleared and are safe to handle every delivery. This does mean that we will require a DBS certificate from you, dated no older than six months. A DBS check ensures you have no criminal convictions in your name. You can apply for a DBS check online.
Passport or Birth Certificate
In order to prove you are a UK resident and able to work in the UK, a passport or birth certificate will be needed,
As a courier, you will need to share a copy of your driver's licence card to prove you have a valid UK driving licence and are eligible to drive on UK roads.
Proof of address will also be required in the form of a utility bill or bank statement, providing they are dated within the last three months.
National Insurance Letter
Your national insurance letter can prove your right to work in the UK, if you are unable to show this, then a copy of your payslip will be required instead.
We will need to see evidence that you own your vehicle and have the right to drive it, so a copy of your V5 logbook will be needed. Alternatively, if you are hiring your vehicle, we will just need to see the hire/rental agreement.
4. Accepting Jobs
After you have joined Crown SDS, accepting courier jobs is extremely easy. We have a driver app which you can use to show your availability and accept work, making your job super flexible – keeping you in the driving seat!
We have a dedicated control team who handle all driver communications and in some circumstances, will either contact you by phone or send a message directly to your phone to offer work.
One thing to be aware of is that the more flexible you are, the better the earning potential. Being responsive when accepting work (as well as throughout the initial application process) is really useful in increasing your earning potential too.
Apply to become a courier - start your career with Crown SDS
Looking to kickstart your self-employed driver career? We would be more than happy to have you on board! We have quality courier jobs available across the UK, for local and nationwide drivers that have a high standard of professionalism, self-motivation and flexibility.
If becoming a courier sounds like the perfect career path for you, its easy to apply for courier work with Crown SDS. We employ a dedicated resource team who are ready and waiting to answer any questions you may have about the application to become a courier – so what are you waiting for? Get in touch today to kick-start your new career.