The 2021 National Courier Awards returned to Pall Mall for its 25th annual celebration, on October 26th, following the cancellation of last year's event due to national COVID restrictions.
And what a return it proved to be, as two hundred guests from far and wide across the courier industry, gathered to celebrate the best of the best in final mile, last mile delivery, next day and same day delivery.
Crown SDS Managing Director and Institute of Couriers (IoC) Fellow, Tim Seagers was presented with the Military to Civilian Award, recognising his contribution to the same-day industry; following his early career as a sub-mariner, to a courier business founder, having formed Crown SDS (formerly Crown Couriers) in 1990.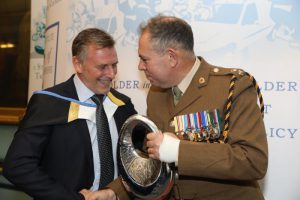 IoC Tracey Worth commented at the event:
"Tim's work ethic, his values and demonstrated adaptability have taken him from his decision to leave the forces, to starting and growing a nationwide logistics business which recently celebrated its 30th year, showing the versatility of ex-services personnel to excel in any role or sector".
Tim was selected to meet the Royal guest of honour, HRH Princess Anne at the ceremony – particularly apt given the Princess Royal's honorary Royal Navy titles.
Seagers was taken by complete surprise with winning the courier award, which on the night was presented by Lt. Col. Andrew Gifford CO 158 Regt. RLC, as he had attended the event unaware of his nomination.
Not the first Crown SDS employee to bag a prestigious National Courier Award, both Kelly Millichap and Lee Galvin were winners of their respective categories at the 2020 awards, presented at 'on the road' event by IOC chairman Carl Lomas and Tracey Worth of the IoC.  
Read more about last year's winners here.